How To Fix & Stop A Windshield Crack From Spreading

Not only is Ottobot Motors a place that you can count on for quality used cars, trucks, and SUVs, but you can also rely on us for all things automotive. We love to help our customers with their needs, and sometimes it's all about finance. Sometimes it's all about brand information. Other times, it's about what to do when certain things happen to your vehicle. Located in busy Irving, TX, Ottobot Motors is here to help you no matter what. So with regards to how to fix a cracked windshield, we've put this handy article together so you know what can be done before you have to pay for a replacement.
---
Read more:
Reasons Why My Engine Light Turned On
---
Can a Cracked Windshield Be Repaired?
---
The fast answer is yes. The slightly more involved answer is maybe. Many factors contribute to a windshield's ability to be fixed, such as the location of the damage, its size, and the complexity of your windshield. Now we know what you're thinking, "How can a windshield be complex?"
Your windshield plays a big part in today's vehicles that utilize ADAS technology like adaptive cruise control, collision detection, and lane-keep assistance. Sophisticated sensors are integrated into the windshield, and just the slightest crack can cause these features to malfunction. That said, we're going to break down the topic of how to fix a cracked windshield into manageable steps.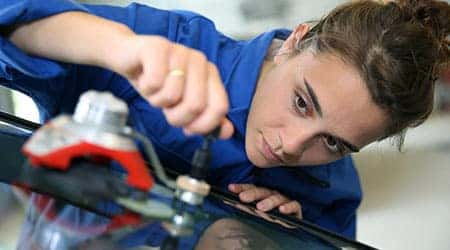 Types of Windshield Cracks
Believe it or not, there's a whole science behind windshield cracks. In fact, many people are paid to know how to fix a cracked windshield. It's a pretty lucrative profession, and we're sure you've seen all those mobile vans cruising around touting their services. Why all the fuss? Windshields need to be in good condition, or it can violate local, state, or even federal laws. You might get a ticket, you might have your vehicle impounded, and worst of all, you can hurt yourself or someone else. Be on the lookout for these types of windshield cracks:
The Surface Chip – These are small, as the name suggests. It is a small slice out of the surface of your windshield. There is rarely penetration, and they are usually round or oval in shape. Consider these to be some of the easiest repairs.
The Half-Moon or Horse-Shoe – These are next in line and have a "u" shape. This type is slightly more aggressive because the crack has a line of advance, and it will expand in time.
The Star – Probably the most famous, these are due to rocks and road debris that make a small hole in your windshield with tiny pressure lines stretching out from the point of impact. This type of crack will spread in all directions over time.
The Combo Crack – This type is when multiple cracks have joined and will soon create havoc on your visibility, climate control, and other onboard safety systems.
So then how to fix a crack windshield before it gets any worse? Start small! As soon as an incident occurs, you're going to want to grab a repair kit that makes use of epoxy or resin.
How To Stop a Windshield Crack From Spreading
As we mentioned above, you'll want to grab a do-it-yourself kit from a local auto parts supply center. In a pinch, you can use almost any type of superglue until you can find a local parts retailer. That said, let's start with one of the most commonly forgotten methods: Call your insurance company! Many people are unaware that their insurance carries a glass deductible. You may want to give them a call before an incident occurs so that you can be prepared when the time comes. They'll send a specialist, and all you have to do is sit back, relax, and enjoy the show.
If you are going to give it a try on your own, all of these do-it-yourself glass repair kits follow the same essential steps, which are:
Clean the area of the damage, this ensures proper application
Inject sealant/resin via the supplied tools
Use bubble removing tool as indicated (if supplied)
Once cured, use a razor blade to remove excess
These at-home kits are designed to be used by everyday drivers with no mechanical skills at all. The results are usually pretty good, and the resin will typically stop the spread of your crack for a long time. That said, weather, road, and previous glass conditions may accelerate wear, so you'll always want to keep your eye out for recurring problems.
Still Wondering How To Fix a Windshield Crack?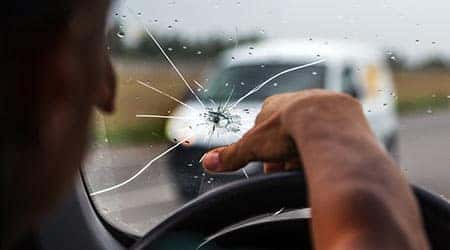 Let's say you've given it a shot and that dang crack keeps on coming back. It might be time to seek some professional help. All body shops offer glass repair as a baseline service, and a professional fix will last longer and cost you anywhere from about $15-$100. Typically, this is an in and out service, and most facilities have a glass specialist on-hand for such repairs. Remember, your windshield is an important piece of equipment. There's more legislation out there than you might even realize. Your windshield keeps you safe. It's not just about unsightly cracks.
---
Read more:
What Happens If I Miss a Car Payment
---
Ottobot Motors Knows How To Take Care of Broken Windshields
Here at Ottobot Motors, we sell windshields for just about every make and model, and as a bonus, they come with a beautiful car, truck, or SUV attached. Talk about value! But in all seriousness, Ottobot Motors is your local source for buy here pay here convenience. We offer an excellent selection of late-model vehicles from the brands you love with the features you need (including windshields without cracks).
We hope that you've found this article about how to fix a cracked windshield pretty helpful, and if there's another topic you'd like to see discussed, or if there's a vehicle on our lot that interests you, we'd love to know!
Frequently Asked Questions
Can I fix a cracked windshield without replacing it?
In some cases, you can fix a cracked windshield without replacing it. However, modern windshields are designed to work with advanced safety features like cameras and sensors, and a crack can compromise their ability to function. Certain types of cracks (like a spiderweb or star shape) can also compromise the glass beyond the point of safe repair. Visit our windshield shop in Irving, TX, for an assessment and competitive quote.
How do I stop a crack in my windshield from spreading?
Most windshield cracks will inevitably spread, but you can slow the spread with a high-quality glass repair kit. Buy a good kit that includes a bubble remover, and perform the following steps: Clean the cracked area thoroughly, apply the sealant to the cracked area, remove any bubbles with the supplied tool, wait for the sealant to dry, and remove excess material with a new razor blade or utility knife.
How can I fix a crack in my windshield myself?
Attempting to fix a crack in your windshield by yourself is possible with a DIY kit, but it's important to remember that this will typically be a less-effective solution than a professional repair. DIY windshield crack repair relies on off-the-shelf kits, and these DIY kits rarely last as long as the specialized materials and methods used by a professional repair facility.
Read More Automotive Research Tips In Irving, TX: