How To Sell A Used Car In Dallas, Texas

If you're wondering how to sell a used car, there's a lot to consider. Your team at Ottobot Motors in Irving, TX, is going to reveal some of our best tips for selling a used car, and we've put together this authoritative guide that we know you'll find helpful (so please share it with your friends!). You know Ottobot as your trusted buy here pay here used car center, but we'll flip the script and show you how to sell your vehicle privately, in a way that protects you from risks you're probably unaware of. Kick back, relax, and read on because you're about to learn how to sell like a pro! Consider your "how to sell a used car" problem handled.
Step 1: Think Like a Buyer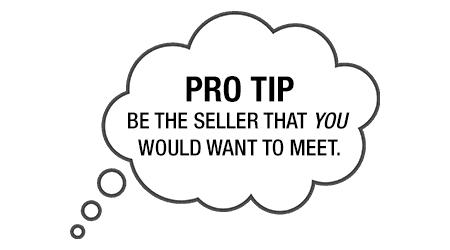 The key to a great sale begins with thinking about what you would want as a buyer. Considering this often-forgotten step will help you in ways that you might not even realize when you finally put your "seller" hat on. If you were buying a used car, you'd want something that meets your budget. You'd want the seller to answer your questions. But most of all, you'll want the vehicle you see to match what was described (such as a work truck, guest vehicle, family car, etc.).
Prepare yourself for questions. Buyers will have plenty of them. Don't forget to think about your boundaries. Are freeway test drives okay with you? Is meeting at night comfortable? Whatever "obstacle" your boundaries might create, have a solution like a predetermined route where you can get to 55 MPH where posted on a side street. Have options of when you can meet during the day. Demonstrate the ability to accommodate.
If you're selling a used car in Texas, start by thinking about what you would want if you were buying a used car. In fact, you can read our tips for buying used cars, and see what your buyers might be thinking about.
Step 2: Consider Your Options
There's a lot of liability when selling a car privately. Your safety, finances, and legal liabilities are all exposed. So if you're thinking, "Can I sell my used car to a dealer?" The answer is yes! This is often the best place to sell your used car because the process is quick, and the dealership handles all the paperwork. You take your money, walk away, and have zero liability. Yes, the purchase price might be lower than your targeted sales price, but here's why:
We think like a buyer, too. We want to make the car right for the next guy and factor in reconditioning costs.
Then we think like a seller. Once all costs are applied to the vehicle, we consider real-time market pricing. We need to make money, too. It's how we pay for groceries, and health insurance, and the rest of it. Just like you!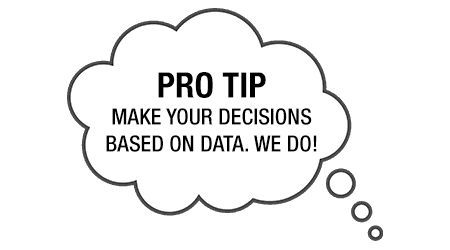 Take any of our used cars for sale. Nearly all of them are purchased trades from people like you. Once purchased, they're inspected, serviced, and prepared for resale. Giving us just enough profit to keep the lights on till next time.
If we gave our cars away, there'd be no more Ottobot motors. Would you give your car away for free?
The alternative to a dealer trade or cash purchase is a private sale. There are loads of details that you'll want to take into consideration if you go this route – and we're going to tell you our best strategies of how to sell a used car below so that you're prepared for anything.
Whether you sell your vehicle to the dealer or to a private party, you can get a trade estimate by using our online tool, the same one we use all day to evaluate customer vehicles. Knowing this information prepares you for other decisions coming your way.
Step 3: Get Organized!
Yes, life is busy. But a little preparation now goes a long way at the time of sale. Imagine selling your vehicle. It all goes better than expected. Then you go inside to grab the title and– whoops. You can't find it. Now what? Here are some organizational tips on how to sell a used car successfully:
Find your title! If you have it, great. Keep it safe, and always keep it inside your home until it's time to sign off to the new buyer. But if you can't find your title…

Get with the DMV! Apply for a duplicate title, and be sure to have your registration, license, and proof of address handy. Remember, no title = no sale. While you're there, you'll want to ask about any proper selling steps needed for your city or county. Believe it or not, the DMV can be helpful.

Have a bill of sale prepared. There are many templates available online. Essential components of any good bill of sale are spaces for buyer & seller names, VIN #, mileage, dates, selling price, any additional terms, and most importantly, a release of liability. Once the sale is made, your buyer needs to be protected if you want your car back for some reason, and you need to be protected from buyer's remorse, among other things.

Get a value for your vehicle. Knowing a ballpark trade-in value as your last line of defense will help you set a retail price that you feel good about.

Identify any payoff amounts. If you are selling a vehicle with a loan or lease on it, make sure that your lien-holder allows for a title transfer and tells you what additional paperwork is required.
State any and all title issues in the ad. If the title is clean, in-hand, with no liens, say it! If the title has a loan, and an accident on it, say that too. Your buyer will thank you for making this easy.
Step 4: Write an Ad That People Want To Read
Before you even show the vehicle, people will encounter your ad. Think about what you would want to read. Would you be interested in just a bulleted list of features? How would you feel if there wasn't a price nor pictures included? Here are some of our best tips for writing an ad that will make you the king or queen of how to sell a used car!
Be honest! Never underestimate the power of sharing your experience. How long you've had it. The work you've done to it. And even a funny memory will show a potential buyer that you're connected to your car. Have any receipts or documentation ready to support this.

State your price. You've done all your research, so be confident in stating your price. You might also want to state your terms too. Maybe you'd take a dirtbike plus cash. Maybe the price isn't negotiable. Perhaps you will only take cash or release the vehicle once a personal check or wire has been cleared and funds verified.
State how you will show the vehicle. At this point, discuss where and how the vehicle can be seen and the best way to contact you.
Make sure to have plenty of pictures. An ad without pictures these days is as good as skipped. Help yourself and help your buyer. Let them see what they are getting, flaws, extras, and all! Your pictures should feel like a walk around of your vehicle, with a good look under the hood, and a shot of the driver's seat and instrument cluster showing the mileage.
Communicate with your buyer. A phone call and a few emails are enough to determine if a buyer is serious. Once you feel comfortable, set the appointment and know that you have what we call a "qualified lead" coming to buy your vehicle.
The more relevant the information that you can share the better. This builds buyer confidence, and it also saves you from explaining all the details multiple times. If you've written a good enough ad and communicated effectively, your prospect will be coming with the intent to buy. Not just waste everyone's time.
Step 5: Make a Great First Impression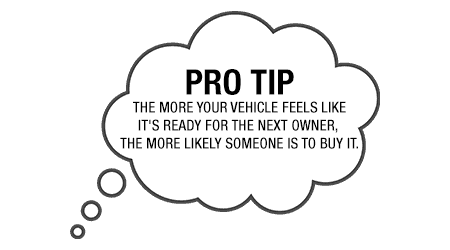 Unless you're looking for a project-car, would you want to buy something held together by duct tape? Would you even want to drive it if the steering wheel and controls were sticky? Neither would your buyer. Take the time to prepare your vehicle. Clean it up. Take out any personal effects that you might not want to lose if your buyer takes the car on the spot. You don't have to detail it for every showing, but keep her clean and ready to go.
Once your qualified buyer shows up, lead with good faith. Your energy will determine a lot. Have respect for them, and you'll be surprised by the return on your kindness.
Step 6: Time To Be the Gambler
Hey, you're going to sell a used car in Dallas, right? The immortal words from a famous Texas country song illustrate the best pricing and negotiating strategy we can think of: "You've got to know when to hold 'em, know when to fold 'em, know when to walk away, know when to run." So what does all this mean for you as the seller? Let's take a look:
Know when to hold 'em: You've done your research comparing your car to others. Maybe you've got your trade-in value from us. You've set a price that you can justify with all your data. Don't be afraid to stick to your asking price if you've done a good job demonstrating why it's worth what you're asking.
Know when to fold 'em: So you've stated your price. But like you probably would, your buyer asks for a lower price or makes an offer. Only you know what your financial needs are. If their offer isn't offensive and makes sense to you, it's okay to take it! You can even price your vehicle just slightly higher to offset any discounts.

Know when to walk away: Hopefully, you've had at least one phone call or a few emails with the person that shows up. You should be on the same page. But if something occurs that is unexpected, or their offer is too low, it's okay to say no. You might be surprised. It's often when you say "no" that you'll quickly see a buyer say "yes."
Know when to run: While we're keeping this article light-hearted, your safety is always a concern. You'll want to feel out a potential buyer over the phone. Trust your instincts. Keep in mind that you'll be inviting strangers to your home. Do you want them to know where you live if they become angry for some reason? Pick a place to show your vehicle in a way that feels safe to you. For instance, state in your listing that you'll be showing the vehicle on Sunday after church, and you can meet buyers there. If something goes wrong, you've got a great place to run to. Take this last point very seriously.
Ok. So your vehicle's been seen. They love it. They've paid. The money has cleared. You've passed off the keys, the title and given them a copy of the bill of sale. You did it! But now what? There are a few more things to keep in mind now that your sale has been successful.
If someone insists on a wire or check, they should be okay with waiting until it clears to take the vehicle home. You should never feel forced to give away the title, keys, and vehicle just because they have handed something over that may or may not clear. In this case, give your buyer confidence by removing or editing the listing with a "Sale Pending" notice. Make a note in the "terms section" of the bill of sale (this is your working contract). And maybe consider giving them the owner's manual as a show of good faith.
Step 7: How To Sell a Used Car Without Headaches
The deal is done. They've driven away. You've taken the money from a successful sale and purchased one of our cars under $15,000. Everyone's happy. Then a few weeks go by, and the phone rings. It's your buyer. The alternator went bad, and they're feeling less than happy about it. You apologize, express your sympathies, and then they come back to you wanting you to foot the bill for the repairs. They get aggressive and start talking about lawyers. While you may want to hang up on them initially, this could only make matters worse. If they sue you, which they can, you'll have to make a court appearance. WHAT. DO. YOU. DO?
An ounce of prevention is worth a pound of cure.
In terms of your legal liabilities, the best way to sell a used car in Texas is to make sure you've done your due diligence. Cover your bases. Here's how:
Make sure the bill of sale clearly states "as-is with no warranty expressed or implied."
Get a pre-sale condition report from your mechanic. Include this in your sales documents and vehicle description. Make sure your bill of sale reflects the buyer's understanding of the vehicle's inspected condition. You are not a dealer, and you are not responsible for allowing them to take your vehicle to another shop. What if they crash? What if the mechanic damages something? You know who pays? You! If their mechanic comes with them, include that in the bill of sale and have the mechanic sign off on the verified condition/inspection, too.
Go above and beyond. The thought of shelling out money may sound offensive at the moment. But realize that a few hundred bucks contributed to a repair goes a very long way. While you're not required to do this, you are stepping up for another human being while protecting yourself from further backlash. Make sure to create a document that states your contribution as a "one-time courtesy and that no further courtesy will be allowed." If something happens down the line and you end up in court with them for something else, you will be able to present all of the good faith documentation showing that you have been responsible throughout and even after the sale.
Of course, this is a worst-case scenario. But it happens. We hear about it all the time. Decide how and where to sell your car very carefully. Let's say that you're offered $4500 from a dealership as a cash purchase. But you sell your vehicle privately for $5250. Good job, right? But then you have to spend $1500 in legal fees. And maybe the court assesses a fine. Plus your time. And all the headaches. Was the extra $750 worth the gamble?
Frequently Asked Questions
What paperwork do I need to sell a car in Texas?
To sell a car in Texas, you'll need the following paperwork: the title, a bill of sale, a signed title transfer application, and additional documents like a release from a lien. The private selling process can be a headache, and the fees involved can negate the extra money compared to selling to a dealership. If you'd like to avoid this hassle, sell your car to Ottobot Motors in Irving, TX.
Do I need to notify the DMV if I sold my car in Texas?
Yes, you will need to notify the DMV if you sold your car in Texas. You are required to inform the DMV of your car's ownership change so that the title can carry over. This process is called a Vehicle Transfer Notification, and you will need to complete it at a Texas DMV within 30 days in order to remove any liability.
Do I need a bill of sale for a car in Texas?
You'll need a bill of sale for a car in Texas. A bill of sale includes the names of the buyer and seller, the date of sale, the vehicle's mileage at the time of sale, the VIN, the selling price, a clause that releases you from liability, and further terms, such as whether the vehicle includes a warranty. You can make your own bill of sale with templates available online.
How To Sell a Used Car in Dallas, TX: Recap
So after reading that last part, you might be thinking, "Someone else, please sell my vehicle!!!" While most private used sales are a routine affair with good feelings experienced all around, we're trying to prepare you for what could also go wrong. It's the responsible thing to do because the truth is, you can't just rinse off and sell a car. You have to take on a lot of responsibility. And then you have to decide if it's worth it in the end. Come to think of it, there's another option. Have you considered a trade? Skip to the good stuff, eliminate the hassles, and put your current vehicle into a trade for one of our used SUVs, pickups, or family cars!
We hope you've enjoyed this article on how to sell a used car. We trust that it will prepare you against some of the most costly pitfalls that you could experience. Not to say that any of these negative things will happen, but they can. We'd also like to tip our ten-gallons in agreement with that same Texas-born country song, which has a verse that concludes, "If you're gonna play the game, boy, you gotta play it right."