If you are shopping for a compact car, then you likely have the Toyota Corolla vs. Honda Civic comparison on your mind. After all, these models have been two of the top cars in the compact class for decades, and the new and late-model editions of the Honda Civic and Toyota Corolla continue to be popular options with motorists. We invite you to see our comparison between Honda Civic and Toyota Corolla to help you determine which compact car is right for you. We hope you will have picked a favorite by the end of our Toyota Corolla and Honda Civic comparison. But be warned: both models offer an impressive value proposition.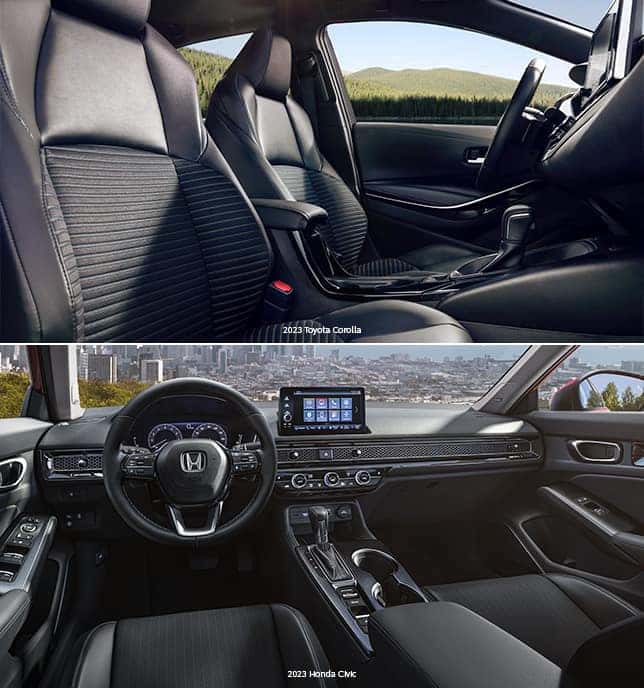 Toyota Corolla Vs. Honda Civic Interior and Dimensions
These two compact cars for sale offer stellar seating space and cargo capacity for their size, and each model is available in multiple body styles to give drivers choices. The Toyota Corolla is offered in sedan and hatchback form, while the Honda Civic has been available as a sedan, hatchback, and coupe in recent years. To keep this a fair fight, we'll compare Honda Civic to Toyota Corolla in the most popular editions of these compact cars: the sedans.
Let's look at how the Honda Civic vs. Toyota Corolla interior comparison shakes out:
Toyota Corolla Interior: Late-model Corolla compact cars like the 2021 Toyota Corolla offer a high-tech and highly usable cabin for up to five occupants. With features like a touch-screen interface, smartphone integration, and the Toyota Safety Sense driver-assist suite, there is no shortage of technology on display. With 34.8 inches of rear legroom and 13.1 cubic feet of cargo space in the trunk, these late-model Toyota Corolla sedans provide ample space for your passengers and your gear. However, this model is slightly smaller inside than its rival from Honda.
Honda Civic Interior: Like the Toyota Corolla, late-model Civic compact cars like the 2021 Honda Civic Sedan boast an advanced interior, complete with a touch-screen display, smartphone compatibility, and a comprehensive safety and driver-assist suite, called Honda Sensing in the Civic's case. Inside, late-model Honda Civics offer more space for cargo and passengers than the Toyota Corolla. You will find up to 15.1 cubic feet of space for cargo and 36 inches of rear legroom.
With similar cabin technologies, interior dimensions, and cargo capacity, you can't go wrong with either of these overachievers in the compact car class. Let's continue the Toyota Corolla vs. Honda Civic comparison to find other ways these models differ.
Honda Civic Vs. Toyota Corolla Trims and Pricing
If you are shopping for late-model used cars for sale and considering the Corolla and Civic, you'll have plenty of configurations to shop. That is because both Honda Civic and Toyota Corolla can be had in a vast array of trim levels. These popular compact car models are both highly affordable, with competitive pricing between the two.
The Honda Civic is available in well-equipped trims like the Civic LX, Sport, EX, EX-L, and Touring. Shop the Toyota Corolla, and you'll find trims with generous features, including the Corolla L, LE, SE, XLE, and XSE.
When you start shopping and comparing the Honda Civic vs. Toyota Corolla pricing, you are sure to find both models offer highly affordable and value-packed options with comparable prices.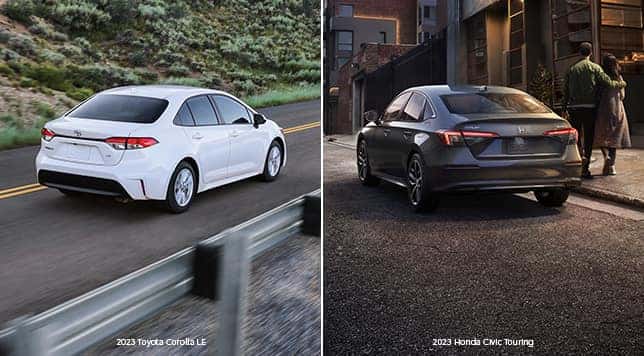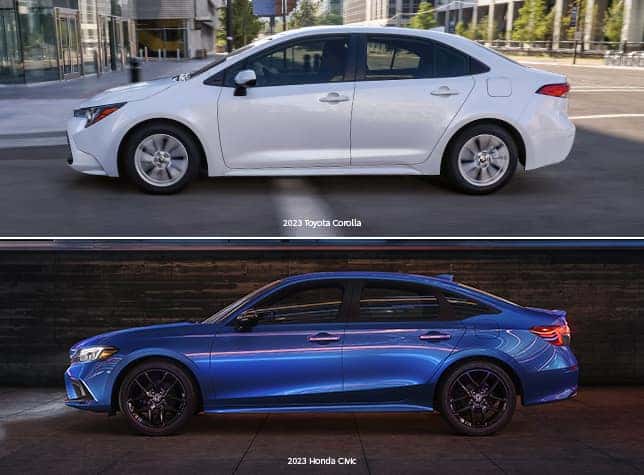 Toyota Corolla Vs. Honda Civic Specs and Performance
Here's how the Toyota Corolla and Honda Civic comparison looks on the performance and efficiency front:
The Honda Civic: Your selected model year will play a factor in the specs, configuration, and features of your compact car, but when it comes to late-model Honda Civic cars for sale, you will find models with a powertrain stretching from 158 horsepower to 306 horsepower. Most late-model Civic cars use a 2.0-liter inline four-cylinder or a smaller 1.5-liter turbo-four engine. Both offer highly efficient performance and are typically tied to the automaker's continuously variable transmission (CVT) for maximum fuel efficiency and smooth operation.
The Toyota Corolla: Like the Honda Civic, late-model Toyota Corolla cars for sale offer multiple powertrains to choose from under the hood. Power comes from a 139-horsepower engine or a 169-horsepower engine, depending on the selected trim level and model year. A CVT is utilized here, too, providing predictable acceleration and fuel-saving efficiency. The Toyota Corolla has the edge over the Honda Civic in maximum fuel efficiency, though, thanks to the availability of a Toyota Corolla Hybrid model.
2023 Toyota Corolla

2023 Honda Civic

Engine:
2.0L 4-cylinder
2.0L 4-cylinder
0-60:
8.2 seconds
7.5 seconds
Combined MPG:
351
321
Drivetrain:
FWD
FWD
Length:
182.5″
179″
Width:
56.5″
55.7″
Cargo Space:
13.1 cu. ft.
14.4 cu. ft.
Horsepower:
169 hp
157 hp
Interior Benefits:

6 speaker sound system
Bluetooth®
Apple CarPlay® and Android Auto™
2 LCD monitors
8 inch touchscreen

8 speaker sound system
HondaLink
Bluetooth®
2 LCD monitors
Apple CarPlay® and Android Auto™
7 inch touchscreen
Honda Civic Vs. Toyota Corolla Reliability
If you've heard only one thing about the Toyota Corolla and Honda Civic, it could be that they both have a reputation for reliability.
According to RepairPal.com, the Toyota Corolla boasts a 4.5 out of 5.0 rating, meaning it earns the #1 spot on a list of 36 compact cars for reliability and cost of ownership. The RepairPal study further states that annual repair costs for the Corolla can be as little as $362. This same study also gives the Honda Civic a 4.5 out of 5.0 rating, but the Civic takes third place here. The Honda Civic was reported to have an annual repair cost of $368, or just $6 more than the Toyota Corolla.
Both of these compact car models have legendary reputations for reliability, and based on their extensive global fanbase, the Toyota Corolla vs. Honda Civic reliability battle ends in a tie.
Now that you know more about these popular compact car models, which will you choose, the Honda Civic or Toyota Corolla? See our used car buying checklist when you're ready to upgrade to a quality pre-owned automobile.
Frequently Asked Questions
Which one is better, Corolla or Honda Civic?
There's no clear answer or winner here. The Toyota Corolla and Honda Civic both have their advantages and, frankly, similarities. Both offer a bevy of smart safety systems, highly efficient performance, a variety of well-equipped trim levels, and budget-friendly pricing. You'll want to tour and test drive these models to find out which one is better for you.
Is a Honda Civic smaller than a Toyota Corolla?
The Honda Civic tends to be larger than the Toyota Corolla, but that depends on the model year and body style you're comparing. Late-model Honda Civic sedans provide a bit more cargo capacity and rear legroom than the smaller Toyota Corolla, but not by a wide margin. These cars are direct competitors, so you'll find they offer similar space inside.
Which Corolla is the best?
Determining which Toyota Corolla is best depends on several factors, including your needs, preferences, and budget. While the Toyota Corolla XLE and XSE represent higher trim levels with more features, they also tend to command higher prices on the pre-owned market than value-packed options like the Toyota Corolla L and LE editions for sale at your local car dealer.
Which is better, Honda Civic Sport or EX?
The Honda Civic EX is a higher trim level than the Civic Sport. In fact, the EX edition it's one step higher in the Civic trim hierarchy than the Sport model. As its name implies, the Civic Sport adds sporty upgrades above the LX base trim, while still utilizing the model's standard 2.0-liter engine. The Civic EX gains the 1.5-liter turbocharged engine and other cabin upgrades.
Read More Automotive Research Tips Near Fort Worth, TX:
---
---
1Estimates only. For more information, please visit the official U.S. government source for all fuel economy at www.fueleconomy.gov.