Comparing the Mercedes-Benz GLA vs. Audi Q3 is a close contest between two muscular and stylish luxury SUVs. Each offers a great driving experience, spacious cabin, and dynamic technology. There are also, of course, differences between the two elegant machines. Here's a closer look to help you figure out which of these two luxury vehicles is the best fit for you and your loved ones.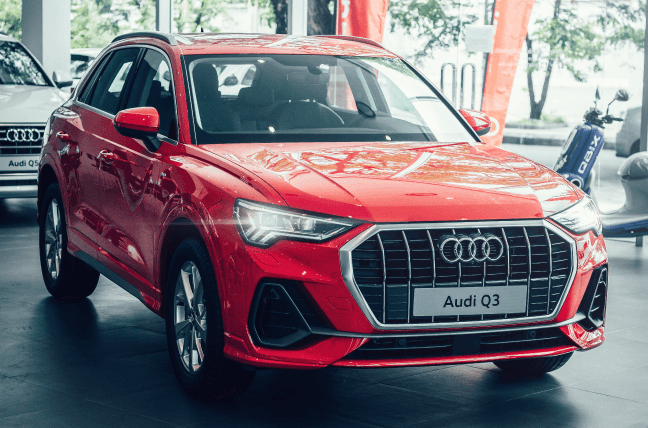 Audi Q3 vs. Mercedes-Benz GLA: Trims
Audi keeps things simple when it comes to available trims. The Audi Q3 is available in two trims, the Premium and Premium Plus. Both offer compelling features and smart technology. An Audi Q3 S line 45 TFSI Premium enjoys:
18-inch five-spoke wheels
Aluminum roof rails
Powered tailgate
Panoramic sunroof
Three-zone climate control
Leather upholstery
Parking assistance technology
Rear cross-traffic alerts
The Premium Plus trim adds even more impressive features, such as a hands-free powered tailgate, a birds-eye view camera system, and a wireless phone charging pad. Drivers looking to experience an especially luxurious SUV should consider the Premium Plus trim. Now, let's continue our Q3 vs. GLA comparison.
The Mercedes-Benz GLA is similarly simple in its design and build. You can purchase a Mercedes-Benz GLA 250 or a GLA 250 4MATIC. A Mercedes-Benz GLA 250 boasts:
Dual-zone climate control
Powered liftgate
Aluminum roof rails
Deep-tinted privacy glass on rear windows
Active brake assist
Rearview camera
Blind-spot monitoring
18-inch wheels
The GLA 250 4MATIC adds even more utility to this powerful machine. All-wheel drive and the Off-Road Engineering package come standard with this trim, allowing drivers to venture off the beaten path.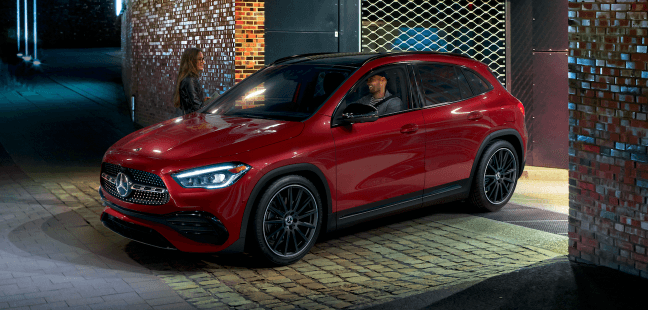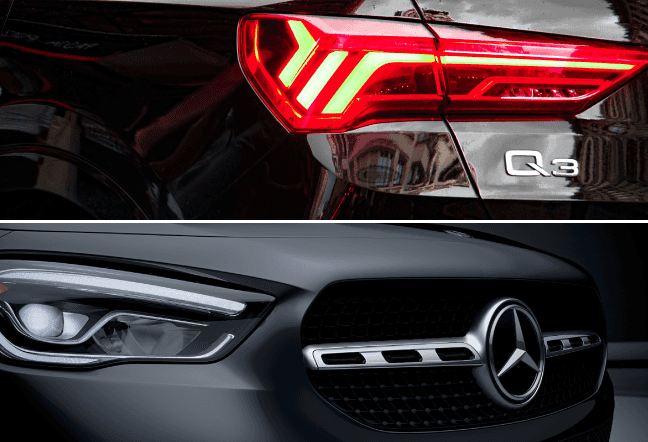 Mercedes-Benz GLA vs. Audi Q3: Performance
An exciting point as we compare Mercedes-Benz GLA and Audi Q3 is their respective performance potential. The Audi Q3 is available with two engine configurations. The currently available option (as of this writing in January 2023) is a turbocharged 2.0-liter four-cylinder engine that makes 228 horsepower and 251 pound-feet of torque. Models with this engine are called 45 TFSI.
The other option is the 40 TFSI model. It uses the same configuration but makes 184 horsepower and 221 pound-feet of torque. Both engine versions are mated to a slick eight-speed automatic transmission and all-wheel drive. The next step of our GLA vs. Q3 comparison is the Mercedes-Benz engine.
The Mercedes-Benz GLA features a turbocharged 2.0-liter four-cylinder that outputs 221 horsepower and 258 pound-feet of torque. The 250 models have front-wheel drive, while the 250 4MATIC iteration has all-wheel drive. This configuration also includes a smooth eight-speed automatic transmission. It has refined suspension that makes for a smooth ride, even over rough terrain.
2023 Mercedes-Benz GLA

2023 Audi Q3

Engine:
2.0L 4-cylinder
2.0L 4-cylinder
0-60:
6.3 seconds
7.1 seconds
Combined MPG:1
28
24
Seats:
5
5
Length:
173.6″
176.6″
Width:
72.2″
72.8″
Cargo Space:
15.4 cu. ft.
23.7 cu. ft.
Interior Benefits:

6 speaker sound system
2 LCD monitors
4 USB-C ports
7″ touchscreen
Bluetooth®
Voice activation
Mercedes connected services

10 speaker sound system
2 LCD monitors
10.1″ touchscreen
Audi Connect CARE
Apple CarPlay® and Andorid Auto™
Mercedes-Benz GLA vs. Audi Q3: Dimensions
The new Audi Q3 is 176.6 inches long, 62.9 inches tall, and 79.7 inches wide (with the mirrors). These dimensions offer a spacious cabin, too. You will enjoy 39.6 inches of headroom and 40 inches of legroom, while folks in the back will have 37.6 inches of headroom and 36.1 inches of legroom. With the rear seats up, you'll have 23.7 cubic feet of cargo space; this jumps up to 48 cubes if you put the seats down.
The Mercedes-Benz GLA is 173.6 inches long, 63.5 inches tall, and 79.5 inches wide (with the mirrors). These numbers are quite comparable to those of the Audi Q3. The interior measurements are also similar, with front-seat occupants having 39 inches of headroom and 41 inches of legroom. The back seat has 38.1 inches of headroom and 38.4 inches of legroom. With the back seats down, the Mercedes-Benz GLA offers 50.5 cubic feet of space for cargo.
Should You Get Behind the Wheel of an Audi Q3 or Mercedes-Benz GLA?
Which of these two vehicles you should purchase could come down to personal preference. Both of them feature powerful engines, luxurious features, and cutting-edge technology. There are differences between the Mercedes-Benz GLA vs. Audi Q3, however. The Audi Q3 comes standard with leather upholstery, whereas the Mercedes-Benz GLA has more legroom for riders. Depending on your needs, one of these vehicles may be better for your family.
Here at Ottobot Motors, we specialize in selling used vehicles. Pre-owned cars offer excellent value for your hard-earned money. Purchasing a used luxury vehicle is a great way to drive an incredible car without breaking the bank. We are proud to offer options for a used Audi for sale at our store, along with a range of choices for a used Mercedes-Benz for sale.
FAQ
Is the Audi Q3 bigger than the Mercedes-Benz GLA?
The Audi Q3 is a few inches longer than the Mercedes-Benz GLA, but the latter is slightly taller than the former. In short, these two vehicles are very comparable in size. Both offer spacious interiors that can comfortably seat the family – or haul a heck of a lot of cargo. Visit our dealership to see this for yourself.
How do the Mercedes-Benz GLA safety features compare to the Audi Q3?
The Mercedes-Benz GLA and Audi Q3 have impressive lineups of standard safety features. Both of them boast blind-spot monitoring with rear cross-traffic alerts, technology that helps with parking, and modern airbags and impact protection. Some of the most recent models have even more safety tech, including semi-autonomous driving. These SUVs work to keep you and yours safe.
Which has more cargo space: Audi Q3 or Mercedes-Benz GLA?
The Mercedes-Benz GLA has slightly more cargo space than the Audi Q3 when the back row is folded down. The Audi Q3 has 48 cubic feet behind the front row, while the Mercedes-Benz GLA enjoys 50.5 cubes with the rear seats out of the way. Both vehicles have roomy cabins and cutting-edge technology. Visit us for a test drive.
Continue Your Luxury Comparison Research In Irving, TX:
---
1Estimates only. For more information, please visit the official U.S. government source for all fuel economy at www.fueleconomy.gov.