BMW i4 Vs. Tesla Model 3 Comparison

If you're shopping for an all-electric coupe from a luxury brand, you're probably comparing the BMW i4 vs. Tesla Model 3 differences in trim features, performance, size, and passenger room. Both vehicles offer ample comforts and conveniences, so which new electric car for sale is a better fit for your lifestyle?
We've put together an i4 vs. Model 3 comparison to help you answer that question. We're confident you'll have narrowed your search by the time you're finished reading, but if you still need to, you can schedule a test drive in both vehicles at our used car dealership for a side-by-side comparison and road test.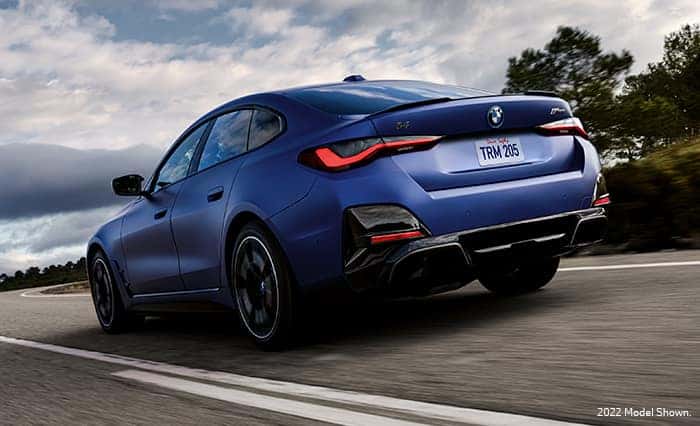 BMW i4 vs. Tesla Model 3 Trim Models
The BMW i4 offers two model designs to build from. The BMW i4 eDrive35 features a single all-electric motor and rear-wheel drive, while the BMW i4 eDrive40 delivers more horsepower, range, and better acceleration.
Regardless of the BMW i4 you select, you'll have an all-electric four-door sports car with cutting-edge performance and luxuries. But should you select the i4 over the Model 3?
The Tesla Model 3 comes in three model options. If you're looking for a used Tesla for sale, you have the Model 3 Rear-Wheel Drive, Model 3 Long Range AWD, and Model 3 Performance trims to compare at our used EV dealership.
The Model 3 Rear-Wheel Drive is equipped with a Standard Range battery and weighs 3,862 pounds. The Tesla Model 3 Long Range AWD offers 23 cubic feet of cargo room, a 15-inch center touchscreen, and seating for five adults.
The Long Range battery pairs with a Dual Motor All-Wheel Drive powertrain and your choice of 18- or 19-inch wheels. When you want 20-inch wheels, a Long Range battery, and the best performance, you want the Tesla Model 3 Performance model.
Model 3 vs. i4 Performance
Now that we know more about your model options, let's compare BMW i4 vs. Tesla Model 3 specs, range, and performance capabilities.
2023 BMW i4

Horsepower:

322

0-60:

5.5 seconds

Seats:

5

Length:

188.5 in

Width:

72.9 in

Drivetrain:

RWD

Cargo Space:

10 cu. ft.

Interior Benefits:

– 10 speaker Hi-Fi sound system
– 2 LCD monitors
– Voice activation
– Enhanced Bluetooth®
– SiriusXM®
– Real-time traffic display
2023 Tesla Model 3

Horsepower:

271

0-60:

3.1 seconds

Seats:

5

Length:

184.4 in

Width:

72.8 in

Drivetrain:

RWD

Cargo Space:

19.8 cu. ft.

Interior Benefits:

– 8 speaker sound system
– Voice activation
– 4 USB-C ports, 1 USB-A port
– 1 LCD monitor
– Bluetooth®
– Navigation and traffic reports
The new BMW i4 is equipped with an RWD drivetrain and, depending on your configuration, up to 335 horsepower and the ability to accelerate from 0 to 60 mph in 5.5 seconds. The i4 eDrive35 has an EPA-estimated range of between 235 and 260 miles, while the i4 eDrive40 can take you between an estimated 282 and 301 miles on a full charge.1
The Tesla Model 3 Rear-Wheel Drive with the Standard Range battery accelerates from 0 to 60 mph in 5.8 seconds and has an EPA-estimated all-electric range of 272 miles. The Model 3 Long Range AWD quickens the acceleration to 60 mph to 4.2 seconds while also increasing the EPA-estimated range to 358 miles. If you value acceleration over range, the Model 3 Performance can take you from 0 to 60 mph in approximately 3.1 seconds with rollout subtracted and an EPA-estimated 315-mile range.
Which is faster, the Tesla Model 3 or the BMW i4?
If the choice between a Tesla Model 3 or a BMW i4 comes down to the faster car, all three Tesla Model 3 trim variants are faster than the BMW i4 with 322 horsepower and a 5.5-second 0-to-60 time. The Model 3 Long Range AWD has the most estimated range in the lineup while also providing a 4.2-second sprint to 60 mph.
BMW i4 vs. Tesla Model 3 Dimensions
Now that you have a better understanding of the trim options and performance capabilities these two electric cars for sale have to offer, let's look at what they're like inside. After all, the interior is where you'll be enjoying your vehicle.
The BMW i4 is a five-seat sedan that measures 188.5 inches long and 72.9 inches wide, making for 10 cubic feet of cargo space in the trunk. The Tesla Model 3 also boasts five seats and comes in slightly shorter at 184.8 inches long. The Model 3 has a nearly identical width of 72.8 inches but manages to deliver 19.8 cubic feet of cargo area.
While both vehicles have five seats and are similarly sized, the Tesla Model 3 has nearly double the cargo room.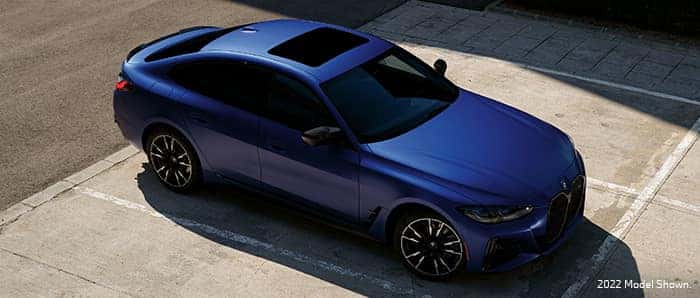 Tesla Model 3 vs. BMW i4 Interior Benefits
When you slide behind the wheel of a BMW i4 in our selection of used BMW cars for sale or a Tesla Model 3, you'll find a similar list of features. The Tesla Model 3 has an eight-speaker sound system, whereas the i4 has 10 premium speakers. Both vehicles offer voice activation and Bluetooth® as well as a traffic display feature. The Tesla Model 3 is looking ahead by offering four USB-C ports in the 2023 model, so your vehicle isn't outpaced by technology.
Frequently Asked Questions
How does the BMW i4 compare to the Tesla Model 3?
The BMW i4 and Tesla Model 3 are both popular all-electric cars for sale. The i4 and Model 3 each come with five seats, several interior features, and impressive performance capabilities. Depending on the trim models, the Tesla Model 3 is generally faster than the BMW i4 and has better MPGe and range. The Model 3 also has more cargo area than the i4.
Can the BMW i4 charge at a Tesla supercharger?
The BMW i4 is equipped with a Flexible Fast Charger compatible with any 120V or 240V outlet. A 240V outlet will typically charge your all-electric BMW from 0% to 100% in under 12 hours. The standard North American charging system is CCS (DC Fast Charging) and J1772 (Level 2 charging). The BMW i4 can charge on all public charging stations with a CCS or J1772 plug.
Discover More Luxury Comparison Research In Irving, TX:
---
---
1Estimated ranges are attainable when fully charged under ideal driving conditions. Actual range will vary depending on multiple factors, including but not limited to: vehicle model, tire and wheel selection, driving style, traffic conditions, and outside temperatures. Some vehicles may not be fully certified by the EPA and US Department of Energy. In this case, the range is an estimate according to preliminary BMW AG tests based on the EPA's test procedure standards. For EPA certification status and additional information about specific models, visit www.fueleconomy.gov.